Beautiful Lady Goes Almost N@ked To Buy Fose Bra On The Streets Of Accra In Shocking Video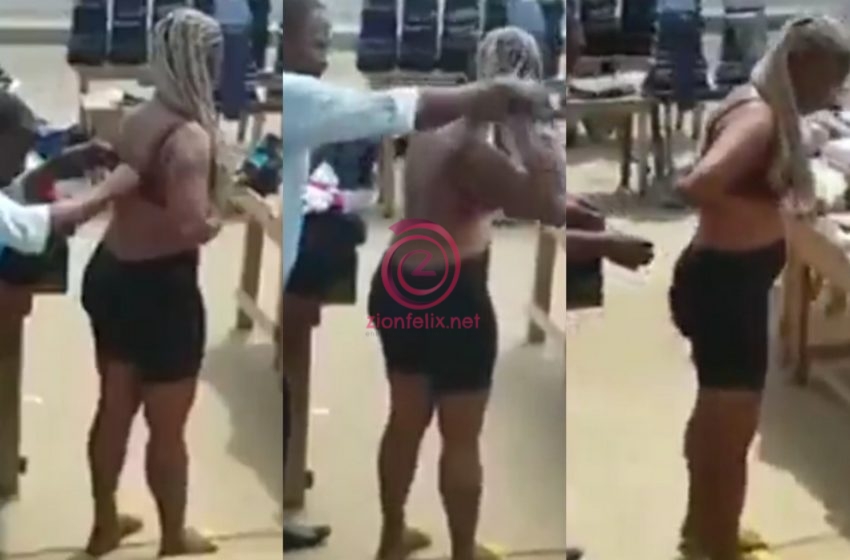 A research released sometime ago stated that majority of Ghanaians are walking around with mental problems.
The daily actions of some Ghanaians which always end up on social media will make you wonder if that research is actually true because if it's not, people wouldn't do certain things.
A beautiful lady has been captured in a viral video buying a second-hand brassiere from a man on the busy streets of Accra.
It is not the fact that she was buying a "fose bra" or buying it from a man that was the issue, the issue was the manner in which the transaction was done.
READ ALSO: Man Who Carried Daughter From Awoshie To Lapaz During Trotro Strike Gets New Car
To see if the brassiere was her size, this beautiful lady who wore a nice braid willingly removed her dress on the streets and took off her bra to try the new one on.
It is appalling to know that a woman of her age does not know her bra size off head and she had to go n@ked to check if the bra was a right fit.
The sad part was her willingness to accept help from the salesman in undressing her old bra and wearing the new one on the road.
Watch the video below: