Man Who Carried Daughter From Awoshie To Lapaz During Trotro Strike Gets New Car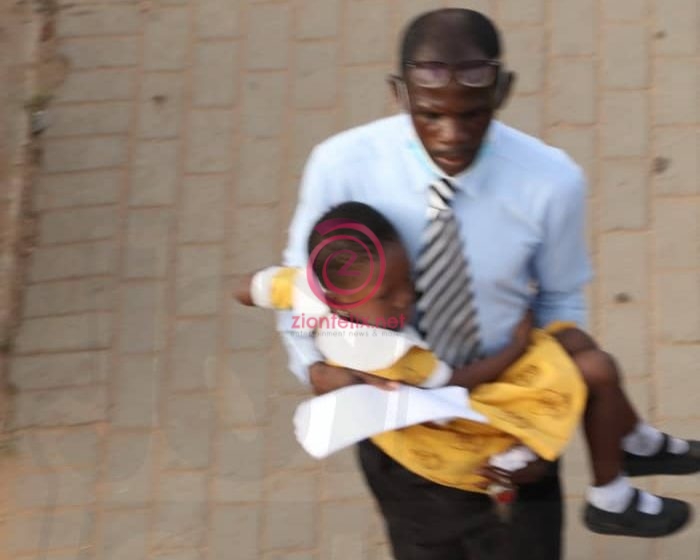 Everybody's time will come as it came for Oswald who received thousands of gifts for a simple birthday note to the mother and Ketasco's Francisca and her team who are now traveling to Dubai although they didn't win the NSMQ.
Social media has proven to always come through for those who really need help at the worst times. That is the story of a man who went viral two days ago when trotros across the country went on strike.
It could be recalled that Monday's trotro strike got many people stranded especially in the capital city Accra. The situation got many talking as people had to walk very long distances to get to work and go back home.
READ ALSO: 'I Did Not Know Yvonne Nelson Had Sued Me' – Mona Gucci Shockingly Reveals (+Video)
Among all that chaos, a man went viral on social media after JoyNews posted a picture of him carrying his daughter to school.
According to a netizen who claims to work with the man at the same organization, he commutes with trotro from Kasoa to Lapa everyday but due to the strike, he and his daughters were dropped at Awoshie in Accra.
The man had no option than to continue the rest of the journey on foot with her daughters. When the youngest daughter got tired walking, the man carried her and continued the journey.
Many social media users felt very sad for the man although they used the day to troll other people who had to walk.
All the man's sufferings will now end after a group have opted to buy the man a brand new car, a JoyNews journalist, Kenneth Awotwe Darko announced on twitter yesterday after starting a search for the man.
READ ALSO: Okesse1 Gifts Young Girl Seen Singing And Dancing To His Song $1000 – Watch Video
Twitter quickly helped and the man was located. Due to the goodness of tweets of the time-line, all the sufferings of this man will end.